17 février 2012
5
17
/

02
/

février
/

2012
22:31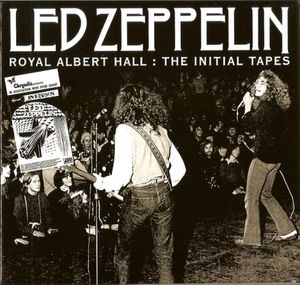 Live du 9 janvier 1970, Royal Albert Hall, London, RU
Faisons simple: ce concert correspond au DVD 1 du coffret double DVD officiel de Led Zep. Mais sur le DVD le concert est incomplet, il manque 3 morceaux dont LE morceau de la soirée, Heartbreaker. Pour le DVD, Jimmy Page s'est associé à Kevin Shirley, ingénieur du son de son étatn et qui possédait les enregistrements du concert, pour réaliser le DVD1. Mais certains morceaux jugés trop mauvais furent écartés.
Godfather réédite ce show (une 1ère édition fut vite épuisée il y a quelques années) COMPLET, en reprenant les enregsitrements officiels! Et la performance est incroyable, le tout donc, dans une qualité de son époustouflante! Et je ne comprend pas pourquoi le concert n'est pas complet sur le DVD1 du coffret officiel, tous les morceaux sont dans la même qualité! Le Heartbreaker est fabuleux, juste coupé à la fin, le medley Long Tall Sally est excellent, et le Something Else est génial . Tout le concert est du même calibre, I Can't Quit You est à tomber, Dazed And Confused déchire tout, et que dire de What Is And What Should Never Be! Je sais plus quoi utiliser comme adjectifs pour qualifier ce show!
Pour le jour des 26 ans de Page, le groupe s'est véritablement déchainé! Plus que recommandé, OBLIGATOIRE à posséder! D'autant plus que TRES facilement procurable!
CD1: We're Gonna Groove/ I Can't Quit You Baby/ Dazed And Confused/ Heartbreaker/ White Summer - Black Mountain Side/ What Is And What Should Never Be/ Moby Dick
CD2: How Many More Times Medley/ Whole Lotta Love/ Communication Breakdown (longer version)/ C'mon Everybody/ Something Else/ Bring It On Home/ Long Tall Sally Medley/ Communication Breakdown (shorter version)