15 octobre 2013
2
15
/

10
/

octobre
/

2013
19:31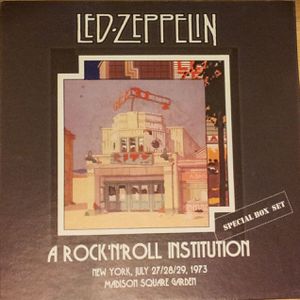 Live des 27,28 et 29 juillet 1973, Madison Square Garden, New York, USA
Voici ce qu'il se fait de mieux pour ces 3 concerts donnés au MSG pour cloturer la tournée américaine de 1973. A des années lumières du pâle The Song Remains The Same officiel, cette box du label Beelzebub contient la quasi-intégralité des 3 concerts, le tout en Soundboard pour la totalité des 8CDs (le 9ème CD est un cd d'interview).
27 Juillet: le meilleur soir en qualité de son (piste utilisée pour le CD et le DVD officiel), du soundboard parfait, tous les instruments sont parfaitement équilibrés, c'est de l'officiel; mais concert incomplet. Il n'empêche la performance est déjà terrible pour ce 1er soir, on sent qu'ils ont de l'énergie à revendre.
28 Juillet: Concert complet, là encore en Sdb mais un tout petit ton en dessous. Enfin on profite sans problême de ce concert terrible, sans doute le meilleur des 3 soirs (voir mon article Shattering Effect chez le label Scorpio pour plus de détail)
29 Juillet: le moins bon soir en qualité de son, soundboard mais 8/10, on entend un peu de grésillement, ou les instruments saturent par moment. N'en reste pas moins un concert de feu, le public est déchainé en arrière plan, et le groupe délivre une perf comme ils en referont peu par la suite. Avec en bonus à la fin un magnifique Thank You. En un mot: monstrueux (dans le bon sens du terme ;-) )
En conclusion, cette box s'avère un incontournable. S'il ne faut posséder qu'une seule box ou date de 1973, ce sont surement ces concerts là!
27 Juillet:
CD1: Rock And Roll/ Misty Mountain Hop/ Since I've Been Loving You/ No Quarter/ The Rain Song/ Dazed And Confused
CD2: Stairway To Heaven/ Moby Dick/ Heartbreaker/ Whole Lotta Love/ The Ocean
28 Juillet:
CD3: Rock And Roll/ Celebration Day/ Black Dog/ Over The Hills And Far Away/ Misty Mountain Hop/ Since I've Been Loving You/ No Quarter/ The Song Remains The Same/ The Rain Song
CD4: Dazed And Confused/ Stairway To Heaven/ Moby Dick/ Heartbreaker
CD5: Whole Lotta Love/ The Ocean
29 Juillet:
CD6: Rock And Roll/ Celebration Day/ Black Dog/ Over The Hills And Far Away/ Misty Mountain Hop/ Since I've Been Loving You/ No Quarter/ The Song Remains The Same/ The Rain Song
CD7: Dazed And Confused/ Stairway To Heaven/ Moby Dick
CD8: Heartbreaker/ Whole Lotta Love/ The Ocean/ Thank You